In Loving Memory
Jordan Camino Evert McCracken
Jordan Camino Evert McCracken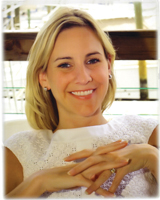 March 4th, 1981 – December 15, 2008
Our hearts go out to her family and friends during this difficult time.
The family requests that in lieu of flowers, donations be sent to the Jordan Camino Evert McCracken Memorial Fund of the Community Foundation for Palm Beach and Martin Counties (benefiting Guardian Ad Litem services and Jordan's other philanthropic interests), 700 S. Dixie Highway, Suite 200; West Palm Beach, FL 33401.
Jordan's Signature Coconut Cake Recipe
Ingredients:
Boxed white cake (and whatever the box says, I like the one that uses the oil)
Extra creamy cool whip (the kind you get in the freezer section not the spray cans)
Coconut flakes
13 oz. sweetened condensed milk
13 oz. coconut milk
Directions:
Just bake the cake according to the directions on the box (I use a spring form pan).
Take it out of the oven do not remove from the bake pan.
Poke holes in the cake evenly (I use a chopstick to do this because I think it makes the holes a good size but you can use anything).
Then in a separate bowl, mix together the sweetened condensed milk and the coconut milk.
Pour milk mixture over top of the cake and evenly around the whole thing (milk will pool up on the top of the cake when you first do this but after you let it sit it will absorb into the cake and down into the holes so the center of the cake gets nice and moist).
Let sit in your fridge until you're just ready to serve (when I was initially told how to make this they said wait forever like hours but I think it tastes just as good if you let it sit for just about an hour or two, with the bigger holes, it all gets absorbed).
Then flip over cake on to serving tray and ice cake with whip cream (I'm not very good at this part and mine usually looks a mess) but the icing should be on all sides and top.
Then just sprinkle coconut flakes on cake (again flakes should also technically be on the sides of the cake too).